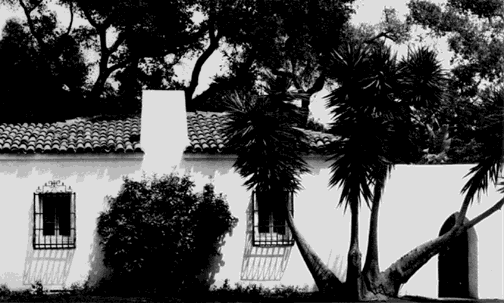 Spanish Colonial Revival 1915-1930
The Spirit of Santa Barbara is epitomized in its Spanish revival architecture. Its vitality, integrity and inspiration gave the city a Mediterranean grace that no other style has been able to conquer. This revival prevailed from the teens through the 30s and appeared in everything from the humblest home to the monumental Courthouse. The condor's eyeview is an array of red tile roofs comfortably nestled on a plain between mountains and the sea.
Spanish Colonial revival is really a catalog of styles, unified by the use of arches, courtyards, form as mass, plain wall surfaces, and tile roofs, all derived from the Mediterranean world. Designers were inspired by a number of sources: the adobe and colonial buildings of Monterey, California; late forms of Moorish architecture; medieval Spanish and Italian church architecture; Ultra-Baroque design of colonial Spain and Portugal; rural forms from Andalusia; Italian Romanesque and Renaissance revival elements; and southwest Hopi and Pueblo Indian adobes. This broad source base made it relatively easy to create a convincing harmony between the exterior image, interior space, decorative elements, and the building's function. Eclectic as the Spanish revival was, the purity of single elements was often retained, such as an Ultra-Baroque entry decoration. In some cases an entire style source, such as Andalusian, was virtually transplanted.
The romance of the Spanish revival inspired buildings that became monuments of architectural history: the Courthouse, El Paseo shopping arcade, the Fox-Arlington Theater, the Biltmore Hotel, and the Crematorium at the Santa Barbara Cemetery. The genius of such master architects as George Washington Smith, Joe Plunkett, James Craig and Reginald Johnson brought the Spanish revival in Santa Barbara to national prominence.
This revival was a phenomenon which swept those regions of America with Hispanic pasts: California, New Mexico, southern Arizona, Florida, and Texas. In California this revival could be construed as a mature continuation of the Mission revival which had used Hispanic elements as mere dressing. Its popularity was heightened by the Spanish Colonial buildings in the 1915 San Diego Exposition. Further impetus came from ingenious designers who sought a wider source base for this "Spanish Renaissance," and a spontaneous public relations campaign which attracted a monied class.
During the 1920s Santa Barbara, already blessed with a significant group of adobes from the Spanish-Mexican period, accepted the Spanish revival as its "official" style. The 1925 earthquake created an enormous need to rebuild and the city had the romantic urge to recapture its past. This love affair remained strong through the 30s, faltered with World War II, and was rejuvenated in the late 50s. In 1960 the city enacted El Pueblo Viejo ordinance which established strict architectural control over a sixteen-square-block area around the site of the original Presidio and insisted that new buildings conform to a Spanish profile. A second Spanish period began in the 60s and is described in the Modern chapter.